Viva Dekor und My paperworld Ceramic effect: White
Ceramic effect,
Vintage White,
150ml
Inspiration: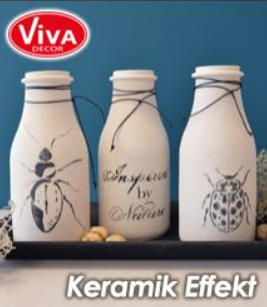 Ceramic effect is a highly pigmented color with you substrates and decorative elements in a fine matte ceramic optics transform. If it will grind the object after drying matte-velvety, with an additional processing premium clearcoat it gets the glossy finish. Water-based, for absorbent and non-absorbent substrates, dry time per coat and layer thickness about 30 minutes, high coverage, schablonierbar, weather-resistant. Stir well before use. The surface must be clean, dry and free of grease. A first layer is thin dabbed with a sponge. These can dry about half an hour. Thereafter, a second layer is dabbed thin, you can also dry. anschmirgeln After drying, the color slightly, so that a nice smooth surface. For stenciling, a template placed and the design with ceramic effect (with a spatula or brush) it will split. The template is to be deducted immediately and clean. Unevenness of the surface motif
Merken
No specifications found...
Checkout has been disabled: WE MOVED "www.Hobby-crafts24.eu"