Decorations and packaging
Compline assembled craft kits to pretty,
nostalgic decorations,
Packaging
and to make cards.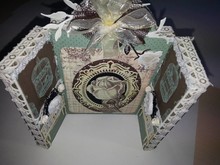 to a collage to make on wood. The collage is on a three-wing icon, wood - decorated with metal hinges 18 x 22cm. For painting, decoupage and many other projects!
Checkout has been disabled: WE MOVED "www.Hobby-crafts24.eu"