Pour own mini framework
Mini frame pour casting,
allow to air dry.
With copper or metal color paint,
or decorate, decorate for your scrapbook project!
Have fun with it!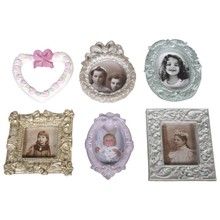 Mold: frame, 6 motives 6.5 to 8. cm. Moulds also suitable for soap, Schocolade- and Eisgießen. Very elastic, frost and heat. Ideal for casting with casting powder.
Checkout has been disabled: WE MOVED "www.Hobby-crafts24.eu"