NEW: PAMPERED POOCH COLLECTION
NEW: PAMPERED POOCH COLLECTION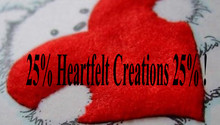 Special discount of 25% !! ON We ship stock HEARTFELT CREATIONS items from the USA! This special offer is valid until 31.01.2017 INCLUSIVE 24 hours !! Only then FUNKTIONIEERT ES: simply following RABAT ...

BRAND NEW! LIMITED! Only 1 in stock! Special discount 25% !! All prices 25% will be deducted again! JUST THIS DISCOUNT CODE IN BASKET TAKE: "HEARTFELT25%" Pampered Pooch Paals: Stamp with 6 diverse designs and fits to the Schab ...
Checkout has been disabled: WE MOVED "www.Hobby-crafts24.eu"