Heartfelt Creations aus USA from the EXCLUSIVE HEARTFELT Collection from the USA!
Rubber stamp set

"

Hydrangea Bird Bath "
Size motives approx .:
1. Hydrangea Bird Bath: 2.75 "x 3.5"
2. Single Hydrangea Blossom: 1 "x 1.5"
3. Border Hydrangea: 4.5 "x 1.5"
Inch = 2.54 cm.
This stamp
-Set is
precut to EZ
-Mount-
foam and
ready to use with acrylic

blocks.
Three cute Birds dip in the sparkling fountain of a bird

bath, which is draped

with hydrangea

blossoms.

Use to create the single hydrangea blooms around

backgrounds.

B lühenden hydrangeas, perfect for 3D effects and pretty backgrounds.
Inspiration: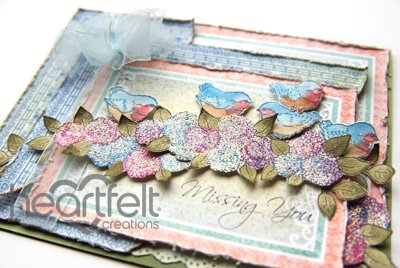 No specifications found...
Checkout has been disabled: WE MOVED "www.Hobby-crafts24.eu"