FARBE / INK / CHALKS ... 3D stamp Colour: Choice of 14 colors
3D stamp color:
our high Brillante Fabenauswahl: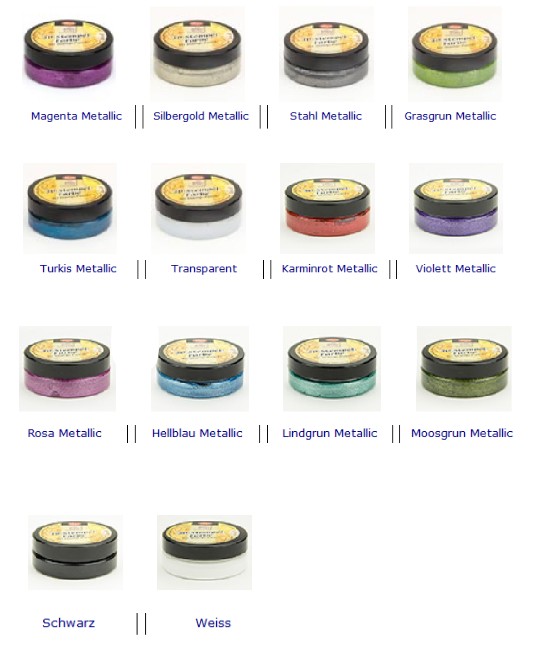 This highly brilliant stamp ink stamp motifs can appear in lofty splendor. The swab sponges, Sponge Stippling Brush or foam stippling they can also be very easily applied surface. The 3D stamp color is smudge-proof and not water soluble. The stamp designs can then colored.
the new colors of Viva Decor are applied to different surfaces, with them can be cardboard, paper, glass, ceramic, metal and plastic make.
They will stick firmly, when dried and is quite resilient.
The 3D - colors can be mixed with each other and are water soluble.
When the paint has dried, polish with a soft cloth, thus the silver effects are particularly prominent.
The color can be Tiered, rubbed and applied with a brush - makes it occur very own structures, which can be in the design to create special effects.
Diluted with water (this increases the drying time will increase)
The to be shaped surface should be free of dust, grease and free of adhesive residues.
These colors can be used - however, I recommend not to use fine contour temple. Because the color is very rich, only sparingly.
I recommend Painters - masking tape or Scotch tape (in glass, metal, plastic) for defining the areas of color
No specifications found...
Checkout has been disabled: WE MOVED "www.Hobby-crafts24.eu"