BASTELSETS / CRAFT KITS: Bastelpackung: gift book flowerart
Bastelpackung: gift book flowerart
This kit includes all materials that you need to full size gift book in format 16 x 24cm to make and decorate. The depth of the book is 4cm, so you gifts for a birthday, can it wrap to an anniversary or wedding. Even 2 Picolos fit.
A nice idea it would be if you stick a photo in the excerpt.
Content:
1 stamped, pre-punched book cover, format 270 x 400mm 1 cardboard sheet for cover, format 245 x 370mm 1 embossed die cut sheet with corners, edges and flap 2 bow grooved cardboard, format 160 x 320mm 2 sheets of grooved cardboard, format 240 x 320mm 2 die cut sheet with flowers 1 pattern sheet with 3 designs for the front page 1 background paper size A4 grooved 1 background sheet, cardboard, dimensions 160 x 300mm 1 Stickerbogen 1 Velcro 1 sheet pads 1 instruction
Inspiration: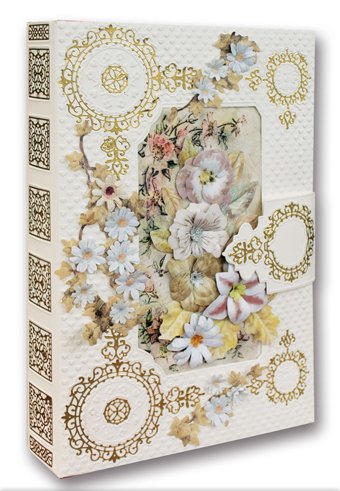 No specifications found...
Checkout has been disabled: WE MOVED "www.Hobby-crafts24.eu"