Embossing Accessories
Embossing Accessories
Application: the embossing
embossing
technique
is a really simple way to quickly and easily embellish all kinds of wedding cards and other cards. First, label the desired wedding card with the pen. Then bring immediate generously to the embossing powder. You can tap off the excess powder and reused. The embossing effect can be achieved then either with a heat gun. Ready!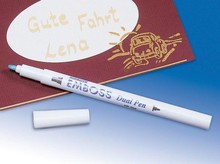 Emboss Dual Pen works with Emboss Dual Pen and Embossing powder: a motif of embossing stencil shape on paper. Desired with the Emboss Dual Pen faces painted or write lyrics. Then immediately Embossing powder on the painted surface st ...

The ideal material to beautify the Embossingtechnik your cards, scrapbooking and many other creative works. Emboss Dual Pen 1 piece, 2 seitigi tip
Checkout has been disabled: WE MOVED "www.Hobby-crafts24.eu"