Collection "Heartfelt Collection"
Heartfelt Collection Designer is a beautiful collection!
Creativity completely different! Our offer unique! Total nicely designed designer paper, matching stamp designs and stamping!
Simply a dream for all hobbyists friends, for your creativity without BORDERS!
More suitable for card making, various decorations, scrapbooking, album, and more!
We will regularly show several new Kollektions. All items come directly from the United States and are collected by us. We offer these products in complete craft packages and also individual on request!
2 product (s)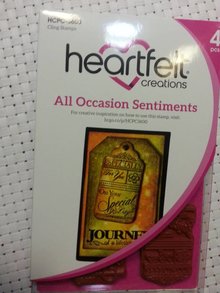 Special discount 25% !! the price of 25% will be deducted again! JUST THIS DISCOUNT CODE IN BASKET TAKE: "HEARTFELT25%" collection of Heartfelt, Rubber Stamp, 4 motives, Journal Labels Text for all occasions. Punch to stamp ...
Checkout has been disabled: WE MOVED "www.Hobby-crafts24.eu"