Scratch Images
Drawings on black background -
just gently scrape the black-based blade with a wooden spatula,
the neon motifs be disclosed -
Pack of 10 designs, A6 10x15 cm

A great pastime, are exposed at the beautiful colors by the printed pattern is scraped from the surface. You can scratch strip, doodles, squares - that brings the image to life.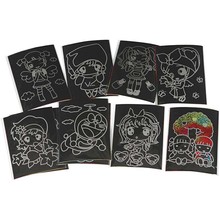 Scratch Images, 10x12 cm, 10 different. Hidden drawings in black finish - just scrape with a wooden spatula, the black layer to reveal brilliant color and spectacular results. You can strip, doodles, Qua ...
Checkout has been disabled: WE MOVED "www.Hobby-crafts24.eu"